Mardi Gras is a time of fun, celebration, and revelry – and The Wharf Fort Lauderdale's Mardi Gras celebration weekend is no exception! From Friday, February 17 – Sunday, February 19, there will be plenty of exciting activities to enjoy. From contests to live music performances, the Mardi Gras festivities will provide an unforgettable experience for all ages. To help you make the most out of your Mardi Gras weekend at The Wharf Fort Lauderdale, here is a list of some must-attend events and attractions. So grab your masks and beads and get your KREWE ready to party like it's Mardi Gras!
Day 1: Mardi Gras Masquerade Bash
To kick off Mardi Gras weekend, The Wharf Fort Lauderdale will be offering $14 hurricanes all day and an unforgettable riverfront happy hour featuring Mules, Mojitos and Margaritas starting at $4 with the price increasing $1 every hour – till 7 PM!  
For the more mystical among us, there will be a variety of fortune tellers to help you follow the stars and make sense of your future. Whether it's tarot card readings or palmistry, these knowledgeable professionals will help guide you on your path.
Meanwhile, those looking for some photographic mementos from Mardi Gras will have plenty of options as well. With colorful props and backdrops set up throughout the venue, you are sure to find an amazing spot for photos to be treasured forever.
Day 2: Mardi Gras Extravaganza
To kick off the festivities on day 2, there will be live entertainment and music from a second line band throughout the day giving you that New Orleans groove as you Mardi Gras revelers sip on $35 bottles of Côtes de Provence Rosé during our special Rosé All Day event from 12-4 PM. Plus, vendors will be selling delicious food so you can keep your energy up while dancing away!
Moreover, don't miss out on the chance to be crowned royalty by entering into our Mardi Gras King and Queen contest! The winners will receive special recognition and a substantial bar credit during our awards ceremony later in the evening – it's sure to be an unforgettable experience.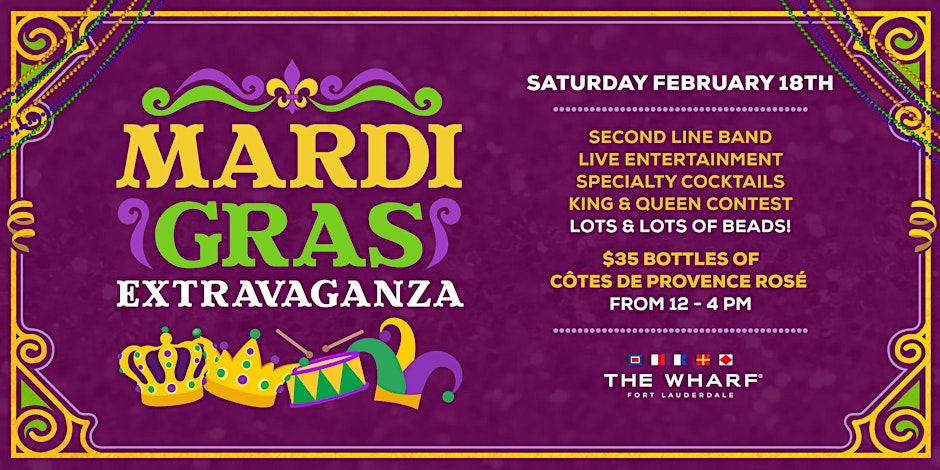 Day 3: Mardi Gras Bourbon Street Brunch
Day 3 will be celebrated in style with special offers to enjoy the festivities of Mardi Gras even more. Specifically, we are offering $75 bottles of Moët & Chandon Brut from 12-4 PM; plus, you can indulge in our delicious hurricanes and refreshing mint juleps for only $14 each all day long.
The Wharf Fort Lauderdale will be the perfect place to close out your Mardi Gras weekend with a bang! From our second line band, live entertainment and photo-ops onsite, you won't want to miss out on this unique Mardi Gras celebration. So come join us for a day of lively music, dancing and fun activities – we guarantee it'll be an occasion to remember!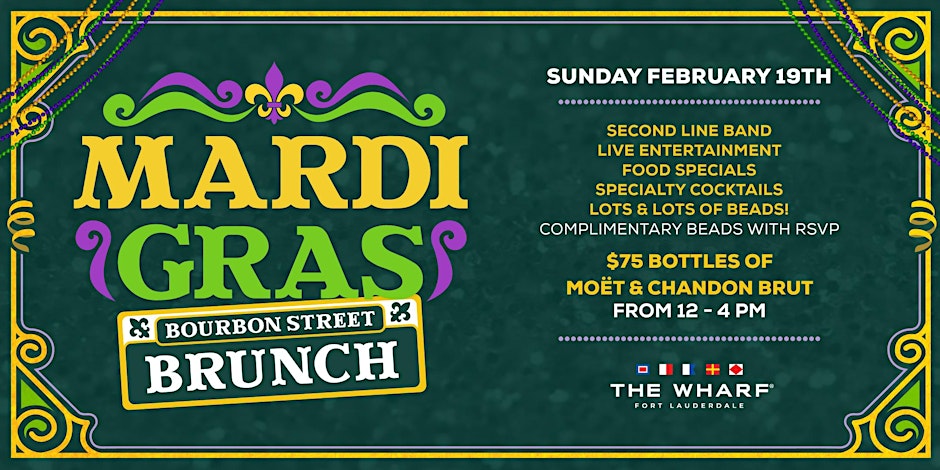 To learn more about the Mardi Gras Celebration Weekend at The Wharf Fort Lauderdale, click here.
Details: The Wharf Fort Lauderdale, 20 W Las Olas Blvd, Fort Lauderdale; WharfFTL.com. (954) 372-7606.
Ready to take your Wharftoberfest experience up a notch? The Wharf Fort Lauderdale is the place to...